The mission of the Quilts of Valor Foundation is to cover service members and veterans touched by war with comforting and healing Quilts of Valor.
The Oconomowoc Quilters Guild has been involved in making Quilts of Valor since 2009.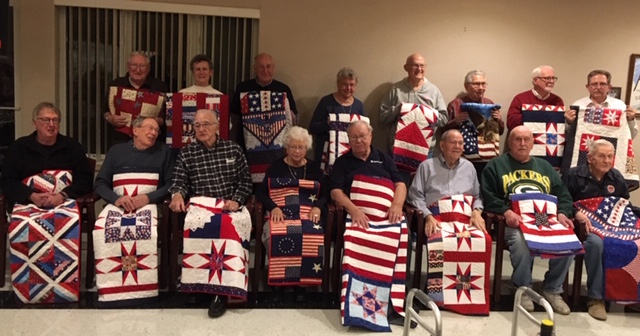 Quilts of Valor website http://www.qovf.org/ lists the basic requirements, has free patterns, information on the program and has lots of great information! If you know someone who deserves a Quilt of Valor, here are the requirements:
The recipient must have actually served in a war.

You must talk to the recipient (or family member) to make sure that they would like to receive a quilt.
Please limit your requests (to the guild) to two soldiers. If you know of more than two individuals that you would like to see receive quilts, please either submit their name to the Quilt of Valor Coordinator or call up some friends/guild members and get sewing! If you present a Quilt of Valor that does not go through the guild- please go to http://forms.qovf.org/ and enter the recipients information so that they get on the national register for having received a quilt.
Know Someone Who Should Receive a Quilt of Valor?
https://oconomowocquilters.com/wp-content/uploads/2018/11/butterflies.jpg
In November of each year our guild selects two Comfort Quilt Focus Projects.  One of those projects selected for 2019 was Project Linus, who has provided quilts to Oconomowoc Memorial Hospital, Waukesha Memorial Hospital, Watertown Hospital, Fort Atkinson Health Care, Waukesha Women's Shelter, Hebron House, and Lake Country Caring in Hartland. Donations have also been made to Headstart and the Waukesha County Social Service Programs. In 2018, the local chapter of Project Linus distributed 1,280 blankets/quilts!  
If you are aware of a group or need that would make a great guild focus project, please complete the form available on our website. Hand the forms in to the comfort activity chairperson. Projects that have member interest, but which are not selected are perfect candidates for a Special Interest Group project.
In the past guild members have nominated individuals in our community that have experienced difficult times or circumstances and they have been presented with a comfort quilt as an expression of caring and community support.
The Comfort committee has put together kits that may be checked out at each meeting. You would check out a kit and piece the top and sign it back in, someone else might then check it out to do the quilting, and another member would check it out to finish the binding. A log of quilt measurements and finished quilts will be available for review at each meeting.
Suggested Sizes for Quilts
Quilts of Valor: Minimum size is 55" x 65", Maximum is 72" x 90"
Service Quilts for Veterans: 40" x 50"
Wheel Chair quilts - 36" x 36" OR up to about 36" x 45" with two bottom corners rounded
Throws: 55" x 72"
Comfort Quilts:
Child 5 or under - 45" x 60"

Twin - 60" x 80"

Double - 81" x 96"
Project Linus - anything from baby size to 18 years